Products
The Stax product line is as diversified and extensive as the client's requirements. Display pieces larger than life or the size of a coin can be made from many materials including card, plastic and magnetic (fridge magnets) stocks.
Larger display pieces are generally packaged in secure and sturdy wrappings for shipping flat to the client. Smaller pieces such as shelf danglers and other point of purchase displays, can be removed from the die cuts and bundled.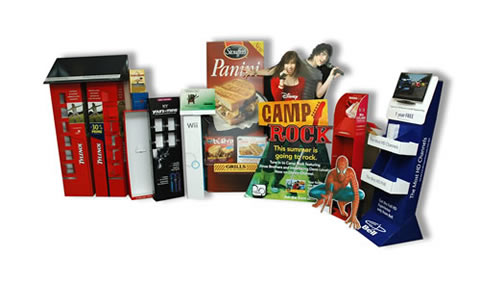 The client can rely on Stax to be attentive to detail especially when it comes to die construction. Dies are important to the precision outcome of the order and while it doesn't happen too often, a die can arrive at Stax from the client with a flawed die pattern. It's typical for Stax to modify and adjust the die to accommodate the correct specifications as part of the ongoing customer service Stax provides.
You can depend on prompt delivery and correct billing for all items produced at Stax with continued customer satisfaction over the past ten years and years to come.
We at Stax welcome your projects and a lasting professional relationship in the future